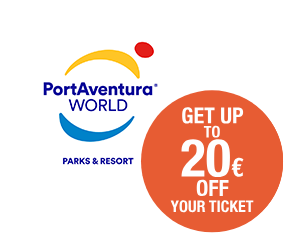 Veri invites you to PortAventura World
Get up to €20 off your ticket to PortAventura Park or PortAventura Park + Ferrari Land with 8 VERI promo labels.
---
How does it work?

1. Sign up and enter your codes.

You'll find them on the back of the Veri labels. Each code is worth 2,5 € off your tickets.

2. Download your vouchers.

You can collect labels for up to €20 off each ticket. No more than 4 vouchers per person.

3. Exchange your vouchers.

Take them to the ticket booths at the park with the ID you used to sign up online.
---
Promo conditions:
- Each voucher is valid for a 1-day Adult ticket to PortAventura Park or PortAventura Park + Ferrari Land.
- The person who got the vouchers online, and whose ID number is listed on them, must go to the PortAventura World ticket booths personally to exchange them. They may take no more than three guests, each with their own voucher.
- The labels cannot be used directly at the ticket booths for a discount. The codes must be entered online first to get the discount voucher.
- After they have been created, the vouchers cannot be added to or used cumulatively. Furthermore, they are not valid for any parks or facilities at PortAventura World not expressly mentioned above.
- Participants must be over 14 years of age.
- No requests to participate will be accepted after 30 September 2019.
- The promotion is only valid in Spain and the Principality of Andorra.